Award honours work on aging, Canada-India linkages
June 24, 2014
Dr. Shanti Johnson was awarded at the Indo-Canada Chamber of Commerce 2014 Female Professional of the Year Award in Toronto on June 14.
The award was part of the ICCC's annual Awards and Gala Night at the Metro Toronto Convention Centre. The event promotes trade and commerce between India and Canada and recognizes the achievements of Indo-Canadians from all across Canada by way of an award presentation.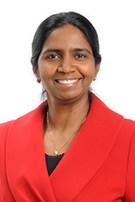 As well as being a SPHERU researcher, Johnson is a professor in the Faculty of Kinesiology and Health Studies and the Associate Dean for Research and Graduate Studies. She is also the president of the Shastri Indo-Canadian Institute, a bi-national network of more than 90 universities and academic institutions in Canada and India.
"I was recognized for my research in the area of aging, plus my work in the Canada-India linkages," she says.
During the last 37 years, ICCC has become as one of the largest membership-based national business organizations in Canada with more than 1,500 members representing all facets of the Canadian economy.
Awards, as chosen by an independent advisory board, are given in the following categories: Female & Male Entrepreneur; Female & Male Professional; Young Achiever of the Year; Technology Achievement; Corporate Executive; Humanitarian; and Lifetime\Outstanding Achievement.
Past winners in the Female Professional of the Year category include Dr. Sadhna Joshi of the University of Toronto, Dr. Madhur Anand of the University of Guelph and Dr. Usha George of Ryerson University.