Report suggests FASD programs expand
February 11, 2015
SPHERU has produced a 104-page report evaluating services and supports for Saskatchewan people with fetal alcohol spectrum disorder and their families.
It is part of a comprehensive provincial review of programming for FASD and autism spectrum. In 2013-14, the Ministry of Health contracted SPHERU and two other consultants to evaluate types of services and supports.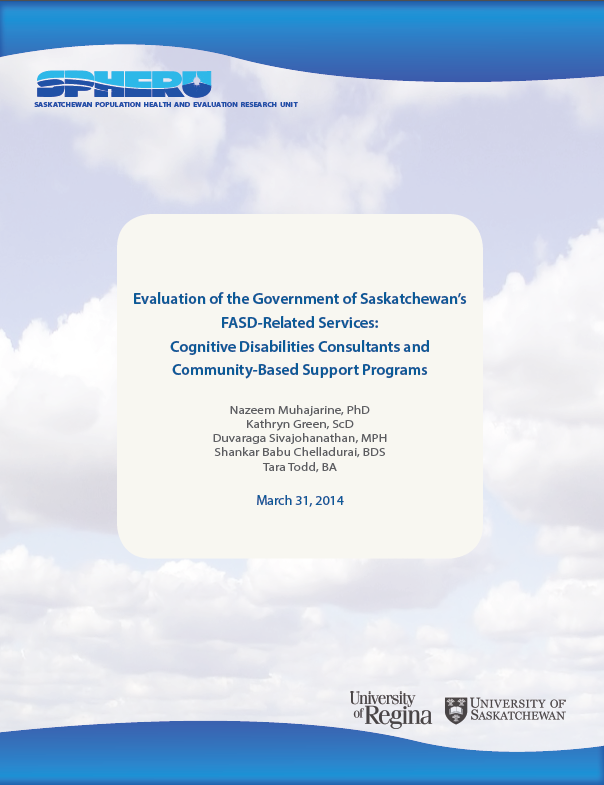 As a result, Dr. Nazeem Muhajarine and a team of Kathryn Green, Duvaraga Sivajohanathan, Shankar Babu Chelladurai and Tara Todd produced the report, "Evaluation of the Government of Saskatchewan's FASD-Related Services: Cognitive Disabilities Consultants and Community-Based Support Programs, which is available on our website under Publications.
They evaluated a number of programs throughout the province, such as the Cognitive Disabilities Strategy (CDS) and regional Cognitive Disabilities Consultants (CDCs). The consultants work with families living with cognitive disabilities by developing support plans and help them access funding to address needs. As well, the team examined four community programs for the report.
As far as methodology, the team relied on semi-structured interviews and focus groups held with administrators, staff, clients, partners and others. These took place from September to December 2013.
The CDS's three main strengths were:
knowledge, helpful consultants;
an inter-ministerial foundation that promotes working across sectors; and
funding that permits clients to address previously unmet needs.
However, there were also challenges, such as:
delays;
complicated applications and renewals;
dissatisfaction with funding;
confusion about roles and responsibilities;
more transparency, better communication and standardization;
finding qualified mentors;
a need from more consultants; and
providing service for rural areas.
When it came to the community-level programs, the team found elements that led to successes such as dedicated, compassionate staff that take a holistic, flexible approach and connect clients with other agencies and organizations. There were challenges though, such as the unpredictability of clients' cognitive disabilities; clients' lack of external resources; inflexible systems that don't accommodate people; and limits on funding limit, which means limits to services that can be provided, low wages and few benefits for staff, and ultimately to high turnover. Still, the common view was the community programs should be expanded.
The report concludes that while the impacts of the programs are sometimes hard to measure, it identifies a number of positive effects on the lives of clients and suggests a cost-benefit analysis be completed for a future evaluation.