SCHK team looks at seasons, kids' activity
December 1, 2014
The latest project for the Smart Cities, Healthy Kids team takes a look at what role the time of the year has on children's physical activity.
Seasonality and Active Saskatoon Kids (SASK) is an obesity intervention research project that measures and identifies the places in the city where children aged 10-14 years take part in physical activity across all the seasons.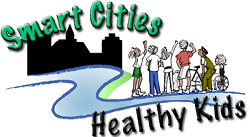 The earlier Smart Cities studies have focused on knowledge gaps looking at how cities' neighbourhoods offer opportunities for physical activity or access to healthy food sources.
This latest study will fill in another gap by examining the links between children's physical activity and the seasons. In Canada, seasonal weather variations are extreme and can affect activity. Within the country, current research into adults' activities shows that the provinces with the strongest links between seasonality and physical activity are Saskatchewan and British Columbia.
The SASK study will focus on children to determine where they are most active and most sedentary across the four seasons as well as on weekends and weekdays. It will also examine whether seasonality affects the location of activity and sedentary behaviour, while taking into account the role of household, school and neighborhood built environments, and whether environment features modify the seasonality effect on locations.
It will incorporate methods from the earlier Smart Cities studies, such as accelerometry, but will also use GPS data loggers for information on locations. Eight hundred Grade 5-8 students from 32 Saskatoon schools will be asked to complete an online physical activity questionnaire with their parent or guardian outside of school time. They will also wear an accelerometer and a data logger around their waists for one week during four different periods throughout the year.
From the earlier accelerometry research, the Smart Cities team determined activity levels based on gender, age groups and free play versus registered activities. The current study will now provide answers on how children's behaviour is influenced by seasonal weather and where their activity and sedentary behaviour takes place.