Food forum to bring in speakers from Canada, abroad
April 10, 2015
This May, the Smart Cities, Healthy Kids team is bringing in health, nutrition and planning experts for a three-day event in Saskatoon to look at food environments in Canada.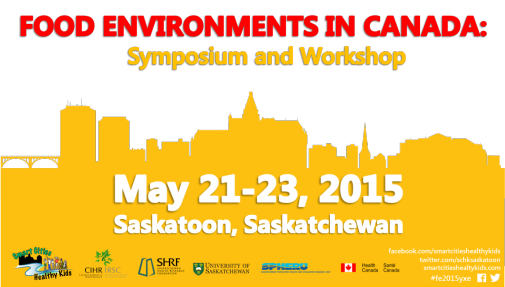 Food Environments in Canada begins on the evening of Thursday, May 21, with keynote speaker Steven Cummins, a professor at the London School of Hygiene and Tropical Medicine. He will give a free talk about food-based interventions. There will be a symposium the next day at Station 20 West, followed by a half-day methodological workshop on the Saturday. It also includes a panel discussion and an interactive poster session.
The event follows up on a Smart Cities, Healthy Kids community presentation last fall, also at Station 20 West, which presented findings from the study on Saskatoon's food environment as it pertains to children, as well as draft recommendations aimed at tackling childhood obesity.
On the agenda for the full-day symposium on May 22 will be speakers SPHERU's Rachel Engler-Stringer and Nazeem Muhajarine; Jason Gilliland, director of the Urban Development Program and professor of Geography, Health Sciences and Paediatrics at the University of Western Ontario; Jennifer Black, assistant professor in the Food, Nutrition and Health program at the University of British Columbia; Kelly Skinner, a CIHR postdoctoral research fellow in the Department of Indigenous Learning and the Department of Psychology at Lakehead University; Yan Kestens, associate professor at the Social and Preventive Medicine Department at École de Santé Publique de l'Universite de Montreal; and Leia Minaker, a scientist with the Propel Centre for Population Health Impact.
The objective of Food Environments in Canada is to bring together researchers, students and practitioners to discuss current food environment research and examine the strengths and challenges of food environments in the country.
The conference in sponsored by the Saskatchewan Health Research Foundation, the Canadian Institutes of Health Research, Health Canada, the Saskatchewan Population Health and Evaluation Research Unit and the University of Saskatchewan. For registration, see www.foodenvironments2015.ca. (A limited number of bursaries are available. If you are interested please email tracy.ridalls@usask.ca prior to registration.)