SPHERU director contributes to new Canadian Wellbeing report
November 22, 2016
SPHERU director Dr. Nazeem Muhajarine contributed to policy recommendations made in the 2016 Canadian Index of Wellbeing (CIW) National Report that was released Tuesday, Nov. 22.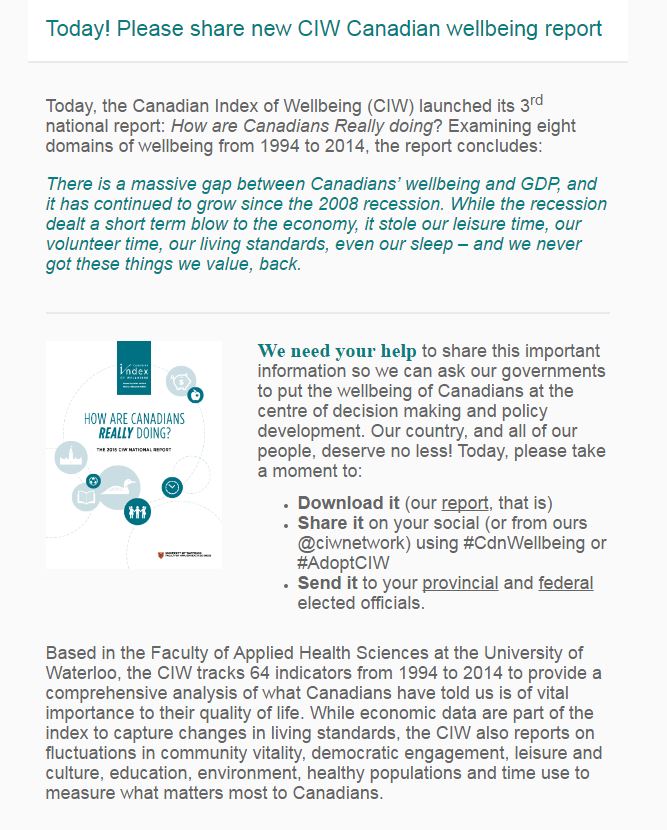 Dr. Muhajarine was one of a select number of people invited to a policy workshop held by the CIW in September at the University of Waterloo.
The 2016 Canadian Index of Wellbeing National Report compared the growth of the GDP and the wellbeing of Canadians during the past 21 years. According to the report, the GDP has grown by 38 per cent, while Canadian wellbeing has grown by only 9.9 per cent. That leaves a 28 per cent gap between how the economy is doing and how Canadians are faring in areas that matter to them. 
Findings included:
Living standards rose 23 per cent from 1994 until the 2008 recession, then plummeted almost 11 per cent. Now, despite an increase in median family incomes, more Canadians experience food and housing insecurity and employment is more precarious.
Leisure and Culture is down 9 per cent. In 2014, household spending on culture and recreation was at its lowest point in the two decades measured. Canadians are spending less time away on vacation and participating or volunteering in leisure and cultural activities.
Environmental progress declined by 2.9 per cent. Although residential energy use is down 20 per cent, there should be much more progress from industry.
The time crunch is an ongoing challenge. We are spending almost 30 per cent less time with our friends. Our commute times to work are longer and only 35 per cent of us are getting enough sleep – down from 44 per cent in 1994.
Life expectancy is up and ratings for mental health are slightly better, but Canadians' overall health ratings are worse. Diabetes rates are two and half times higher than in 1994 and more than one in five people has a health or activity limitation.
"A central theme that emerged from the discussions was inequality, not just in income, but in health, in access to community resources, and in opportunities for leisure and culture. In response, the group recommended policy directions that considered the impact on multiple domains of wellbeing – an innovative and integrated approach to policy that would create multiple benefits for Canadians and reaffirm their core values," the 2016 CIW report states.
The report makes specific recommendations for policy on different aspects of Canadian lives such as:
ensuring a universal basic income through policy
creating an "upstream" approach to health
developing a Pan-Canadian education strategy
For more recommendations and findings, or to read more about the third national CIW Canadian Wellbeing Report, visit www.ciw.ca. 
Dr. Muhajarine also appeared on Global Saskatoon to speak more on the release of the report and the policy recommendations.