SPOR work a natural fit for SPHERU
March 30, 2015
SPHERU is providing leadership in a provincial network in Strategy for Patient-Oriented Research (SPOR) receiving funding between 2015 and 2020 to encourage better patient outcomes.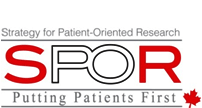 The network, specifically focused on Primary and Integrated Health Care Innovations, seeks to align "upstream" determinants of health with the health care system for better patient care, better outcomes and with lesser cost.
SPHERU was involved during a first phase of SPOR funding to establish the network and set priorities for research. Recently, the stage two proposal, Saskatchewan SPOR Network in Primary and Integrated Health Care (PIHC) Innovation: Management & Operations grant application, was approved by the Canadian Institutes of Health Research. CIHR will provide $500,000 over the five years to match the $500,000 provided by the Saskatchewan Health Research Foundation, and partners, the University of Saskatchewan and the Saskatoon Health Region.
"This support will enable us to build on the work we have done to date, and accelerate the development of the network," says SPHERU's Dr. Nazeem Muhajarine who is the scientific lead of the Saskatchewan network. "The reviewers have clearly recognized the quality of the Saskatchewan network team, the relevance and potential impact of the work we have put forward to improve the health of people in our province."
Muhajarine and Dr. Cory Neudorf are both members of the network's leadership council, which includes representation from the research, clinical and policy communities. One of the goals for the network will be to involve patients in all aspects of the research process.
The pan-Canadian SPOR Network in Primary and Integrated Health Care Innovations is a "network of networks" that builds on member networks and national assets in community-based primary and integrated health care to foster a new alliance between research, policy and practice. It will create dynamic and responsive learning systems across the country that develop, evaluate and scale up new approaches to the delivery of horizontally and vertically integrated services within and across sectors of health care (e.g., public health, home and community care, primary, secondary, and tertiary care) as well as outside the health sector (e.g., education, social services, housing).
The PIHC network is the first one to be set up in Saskatchewan. Among the priorities identified by the network are research across the lifespan as well as on Aboriginal, northern and rural communities, work that will be a natural fit for SPHERU's current areas of research.
During this second phase, researchers will be able to apply for funds for work that could include research, implementation or knowledge translation. The research could involve people from a range of disciplines from surgery to geography.
A third phase of research, for which a call for applications is expected in late 2015, will involve projects in the two- to five-year-range which will involve multiple provinces.