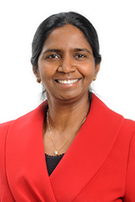 Dr. Shanthi Johnson
PhD, RD, FDC, FACSM, FGSA

Research Associate (University of Alberta)

Dr. Shanthi Johnson is currently Professor and Dean of the School of Public Health, University of Alberta. Her community-engaged research program focuses on falls/injury prevention, aging in place in rural communities, and social isolation among immigrant and refugee seniors. Dr. Johnson has appeared before the Canadian Senate as an expert witness, and served on many grant adjudicating panels. As a global champion of research engagement and partnerships, she has participated in the US Fulbright Fellowship, Australian Endeavour Executive Fellowship and others. Beyond the context of higher education, she has had considerable national and international leadership experiences through her participation on various councils and boards including the National Seniors Council, Shastri Indo-Canadian Institute, and the CIHR Governing Council. She has been a recipient of several awards and recognition including the Award of Innovation by the Regina Chamber of Commerce and RBC's Top 25 Canadian Immigrants.
Research Area(s)
Falls and injury prevention
Exercise and nutrition interventions
Global health and cross-cultural research