Our culture and traditions are important to aging well. Reflections from one northern Saskatchewan Métis Community.
By TJ Roy, Liz Durocher, Sylvia Abonyi, Sarah Oosman, Bonnie Jeffery, Shanthi Johnson, Nuelle Novik, Nazeem Muhajarine, Hassan Vatanparast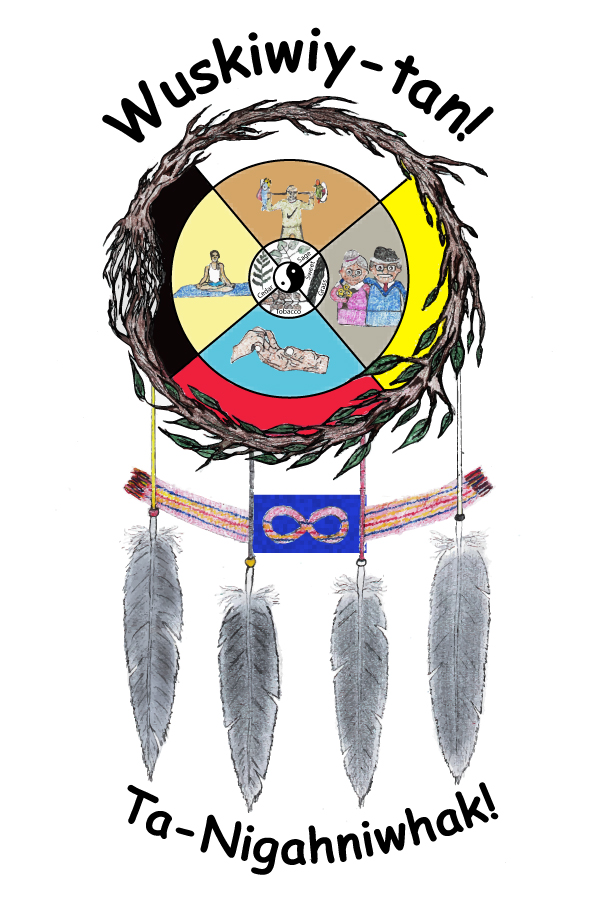 Logo by Cyril Laliberte and Stacey Caisse
"This project is not about creating new knowledge in the community –it's always been there –it's creating the space to bring it forward –people are using this project to go back to their cultural practices –to bring it into the open –it's visible. It's valued in a new way. This is important in the context of colonization."
In Canada, the Aboriginal population is younger than the overall population. At the same time, Aboriginal people are aging faster than the overall Canadian population, and report more chronic conditions earlier in life. This health trajectory is set early in life and is influenced by circumstances in which people are born, grow up, live, and age. Little is known about what Indigenous youth perceive is important to set them on a healthier life trajectory as well as about the aging experiences, aspirations, and support needs of Indigenous seniors.
In partnership with the Métis community of Île-à-la-Crosse, SK, and guided by Aboriginal ecological epistemology, these population health intervention research projects will fill the knowledge gaps and provide evidence of the effectiveness of current and emerging program and policy interventions promoting aging well across the lifecourse.
Data are being gathered from discussion groups, interviews, conversations, and photo projects with children, adults, and seniors. Seniors are completing activity, diet, and quality of life measures at regular intervals. Finally, formal and informal supports and services available to community members are being systematically identified, with a selection undergoing evaluation. Our analysis considers sex and gender to better understand the specific needs of youth and senior men and women.
The findings from these projects will enhance our understanding of the intergenerational aspects of health and wellbeing among Métis peoples and will inform program and policy interventions aimed at supporting a wellness life trajectory.
Funder: CIHR